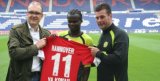 Ya Konan arrives in Hannover
Saturday 15 August 2009 by Sagesse
Hannover 96 signed Ivorian Didier Ya Konan from Norwegian side Rosenborg BK. The striker was presented on Tuesday afternoon after the deal had been declared as sealed that morning. He is already taking part in the squads training sessions, but an appearance in the Bundesliga clash against Mainz on Saturday is still uncertain.
"My wife and my country are proud of me"
The 96-new signing had a long journey before linking up with the Bundesliga side. From the warm African climate he decided to seek a new challenge in cold Norway and now in Germanys unsettled weather conditions. During his first afternoon training session with Hannover, he was promptly introduced with rain showers, typical conditions in northern Germany. This however, did not dampen Konan's enthusiasm over signing a contract with the Reds: "I'm very happy about receiving the opportunity to play football in Hannover. It is a good chance for me to promote myself for the Ivorian national team again but first of all, I want to enjoy success together with the team of Hannover 96." The 25-year-old is not the only one who is happy about his new club, his wife Edwige, who will soon join him in Hannover, and his friends back at home are proud that he can now present himself in the Bundesliga.
"The whole package"
Konan will be wearing the number 11 and he embodies exactly what Hannover 96 had been looking for after the injury of Jan Schlaudraff. He is "fast, agile and equipped with a good shot, he has the whole package," explained Dieter Hecking. Whether or not Konan will be able to show off these qualities in Saturdays Bundesliga clash with Mainz is still unknown. More importantly is the fact that he gets acquainted with his new team mates during the training sessions, but this shouldn't be a problem for the easygoing Ivorian. 96-head coach Hecking hopes that his team will benefit from the determined and self confident character of Ya Konan: "He is a different type of striker compared to Mikael Forssell and Mike Hanke." Signing a fast paced striker was a very high priority at Hannover 96.
Dieter Hecking: "If he plays as easygoing as he presented himself here today, then I'm confident that he will gives us reasons to celebrate!" We wish Ya Konan much success at Hannover 96 and hope that Dieter Hecking is correct with his prediction.
Hanovre96
Home page
|
Contact
|
Site Map
|
Sign In
|
Statistics
|
visits: 264934

en

Hacked By Kirikou

Transfers 1st period (summer) ?
Site created with SPIP 2.0.9 + AHUNTSIC