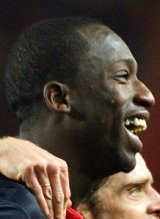 Diane happy with Toon talk
PSG ace admits interest
Thursday 15 May 2008 by Sagesse
Paris Saint Germain star Amara Diane has admitted he would jump at the chance to join Newcastle United.
The Ivory Coast star has been linked with a move to Tyneside after Kevin Keegan checked on him personally earlier this month.
The 25-year-old has now told skysports.com that he would love to make the move to England.
"Kevin Keegan is a dream coach, his team always plays offensive football and playing in England would be a great opportunity," he told skysports.com.
"I know there is some contact between the two clubs and if an agreement is reached, I will go to Newcastle.
"To play with Michael Owen would be great and there is also Obafemi Martins who is a top striker.
"The Premier League is attractive and some of my Ivorian friends are there so I would be in good company."
Newcastle are seemingly taking a keen interest in the French market with St Etienne's Bafetimbi Gomis also thought to high on Keegan's list of targets.
Keegan is understood to have been in France last weekend to check on potential new signings and he attended the PSG-St Etienne clash with both Diane and Gomis playing - but neither scored.
Skysports.com
Forum
Home page
|
Contact
|
Site Map
|
Sign In
|
Statistics
|
visits: 264934
Site created with SPIP 2.0.9 + AHUNTSIC