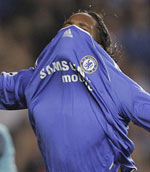 AC Milan Not Hopeful Of Signing Drogba
Thursday 8 May 2008 by Sagesse
Italian club AC Milan say they are not hopeful of landing a deal to sign the Cote d'Ivoire captain Didier Drogba despite being linked for several months to the Chelsea striker.
Milan sporting director Ariedo Braida has predicted Drogba will not be leaving the English premier league despite widespread speculation he is going.
"Drogba is a very interesting player that many clubs would want to have but he is under contract at Chelsea and I believe he will remain at Chelsea next season," he said.
mtnfootball.com
Forum
Home page
|
Contact
|
Site Map
|
Sign In
|
Statistics
|
visits: 264934
Site created with SPIP 2.0.9 + AHUNTSIC