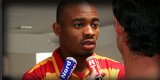 Kalou: I had to leave PSG
Friday 27 July 2007 by Sagesse
Bonaventure Kalou says he was forced to leave Paris Saint Germain after a fall-out with Paul Le Guen and club officials.
The Ivory Coast international lost his place in the PSG side after Le Guen took charge midway through last season.
But the 29-year-old forward called time on his spell at the Parc Des Princes on Wednesday and teamed up with his former Auxerre coach Guy Roux at Lens in a £1million deal.
He told L'Equipe: "The situation in Paris became untenable. At Lens, I know the coach wants me, which was not the case at PSG.
"There was a fracture with the PSG officials. There was never any dialogue with them.
"No one came and directly told me they wanted me to stay or not, so it became impossible for me to stay."
skysports.com
Forum
Home page
|
Contact
|
Site Map
|
Sign In
|
Statistics
|
visits: 264934
Site created with SPIP 2.0.9 + AHUNTSIC