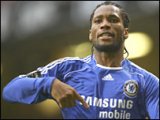 Drogba Drops Exit Bomb On Chelsea
Monday 2 July 2007 by Sagesse
Didier Drogba will have worried the Chelsea camp with his comment that he is considering a move away from the Premiership.
zoom - galleria The Ivorian has been linked with a move to Milan, and has himself flirted with the Rossoneri in the past.
The links had gone quiet for a few weeks, but seem to have resurfaced following some surprising comments from the striker.
Drogba reveals that he is at a crossroads, and is seriously condering a move outside England, so much so that he does not know what could happen next week.
"You want to know if I will still return to Chelsea? I will reply to that when I am ready," he told The Sun.
"For now I am having a deserved vacation."
"I love the English league and may not be in a hurry to leave England if you insist," he continued.
"But it's difficult to really predict what I want to do in the next week.
"I have been working hard and would love to win the Champions League with Chelsea.
"But, for now, let's just wait and see. I'm at the last big turning point of my career.
"It's time for one final big choice: 'Should I stay or should I go?'
"I am tempted to discover another world and to see what footballing life is like outside England."
The news will be welcomed in Milan, as much as it will worry the Stamford Bridge bosses, who are looking for a very quiet summer.
Goal.com
Forum
Drogba Drops Exit Bomb On Chelsea

27 October 2012, by

ben 10

Drogba Drops Exit Bomb On Chelsea

6 October 2010, by

abousherif1

Cette histoire est très attrayant et intéressant parce que c'est une information intéressante et merveilleuse déjà عماير اعمال

Drogba Drops Exit Bomb On Chelsea

7 September 2010, by

alomda
Home page
|
Contact
|
Site Map
|
Sign In
|
Statistics
|
visits: 264934
Site created with SPIP 2.0.9 + AHUNTSIC