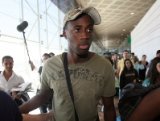 Toure Arrives In Barcelona: "This Is Just What I Want"
Yaya Toure has already reached Barcelona after a final agreement between Barcelona and Monaco was struck this morning.
Sunday 24 June 2007 by Sagesse
zoom - galleria A 12 million euro deal has been struck between the clubs, following which the player has traveled to Barcelona to complete his medical.
He arrived at the airport this afternoon, and headed straight to the Camp Nou, and then to his hotel.
The Ivorian international will sign on the dotted line tomorrow, and is delighted to be able to wear the Blaugrana colours.
"It is a great opportunity for me because Barça are one of the best teams of the world," he told reporters.
"It is a great step in my career, to come to Barcelona.
"For me, some of the best football is played in the Spanish League, and Barça obviously play very well.
"They are one of the best teams in the world, and I want to play for them."
Source: Goal.com
Forum
Home page
|
Contact
|
Site Map
|
Sign In
|
Statistics
|
visits: 264934
Site created with SPIP 2.0.9 + AHUNTSIC