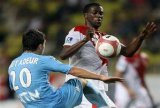 Barcelona Very Close To Toure Deal
Thursday 21 June 2007 by Sagesse
Barcelona have made up their minds that Yaya Touré is the man who will solve their defensive midfield woes.
Their interest has been reported for a few weeks now, but they have stepped up their efforts to bring him to the Camp Nou this week.
The player's represntative, Dimitri Selluyk, will travel to Spain on Friday to meet with technical director Txiki Begiristain and vice president Ferran Soriano, Barcelona based Sport are reporting.
It is understood that terms with the player have already been agreed, and that the meeting is to discuss strategy so that Monaco can be convinced.
The two clubs are separated by 3 million euros, Monaco wanting 12, but Barcelona offering only 9.
Monaco are unwilling to drop their price as they will have to pay half the player's transfer fee to Ukrainian club Metalurg Donetsk, of which, Selluyk himself is the sporting director.
However, it is understood that a 10 million euro deal could be struck, with the player having made his intent clear.
Source Goal.com
Forum
Barcelona Very Close To Toure Deal

17 June 2012, by

matrix

Je pense que c'est la meilleure façon de trouver mes choses que je recherche العاب 2013

Barcelona Very Close To Toure Deal

28 July 2011, by

gasho22

This article is from the series of articles العاب is very wonderful and beautiful he is talking about Barcelona Very Close To Toure Deal it is the right article and thank you for a wonderful writer

Barcelona Very Close To Toure Deal

22 July 2011, by

gasho22

Cet article est une série d'articles Mint est très belle clinical examination videos et merveilleuse dont il parle de Barcelone Très proche Traiter Touré c'est le bon article et merci pour un merveilleux écrivain

Barcelona Very Close To Toure Deal

30 May 2011, by

dw.ahmed

Qu'il était d'accord avec vous dans cet article parce que le joueur Yaya Touré, l'un des meilleurs milieux de terrain dans le monde et bénéficiera grandement de l'équipe

Barcelona Very Close To Toure Deal

28 March 2011, by

alomda

Merci pour vos messages suite dans le magnifique صور بنات

Barcelona Very Close To Toure Deal

6 October 2010, by

abousherif1

Cette histoire est très attrayant et intéressant parce que c'est une information intéressante et merveilleuse déjà عقار السعودية

Barcelona Very Close To Toure Deal

16 September 2010, by

alomda

Je vous remercie de vos efforts soutenus professeur
Home page
|
Contact
|
Site Map
|
Sign In
|
Statistics
|
visits: 264934
Site created with SPIP 2.0.9 + AHUNTSIC