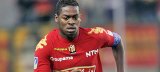 Romaric Sorry For Outburst
Monday 30 June 2008 by Sagesse
Ndri Romaric has apologised for his remarks about Le Mans after finally seeing his dream move to Sevilla completed this week and stated that he always wanted to join the club.
The Ivory Coast international, whose full name is Christian Koffi Ndri, completed his transfer to the Andalucian outfit for around €8m and is seen as Seydou Keita's replacement.
Last month a deal looked set to be impossible with Le Mans insisting they would not sell and that caused Romaric to claim that he had had enough of life in France.
That outburst made him unpopular with Le Mans' fans and he regrets having now left the club under a cloud.
"I want to apologise to the fans for the statements I made at the end of the season. It was a bad reaction, but was caused by the frustration at not being able to join Sevilla," Romaric explained.
"It has been difficult because I have had an extraordinary time thanks to people like president Henri Legarda and coach Rudi García."
The 25-year-old spent three years with Le Mans after moving from Beveren in 2005 and believes that it was time to move on and join a new club.
"Sevilla was always my first choice," he explained, amid reports that he turned down a good deal from Le Mans to extend his stay at the Stade Léon-Bollée,
Lucas Brown, Goal.com Goal.com
Forum
Romaric Sorry For Outburst

27 October 2012, by

ben 10

Romaric Sorry For Outburst

6 July 2011, by

dw.ahmed

Romaric Sorry For Outburst D'accord avec vous dans cet article parce que c'est un grand joueur et est utile pour toute Ik échappé il joue

Romaric Sorry For Outburst

7 April 2011, by

alomda

Romaric Sorry For Outburst

26 October 2010, by

omda

J'ai vraiment apprécié cet article magnifique
Home page
|
Contact
|
Site Map
|
Sign In
|
Statistics
|
visits: 264934
Site created with SPIP 2.0.9 + AHUNTSIC