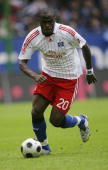 Hamburg's Demel Considers Newcastle
Friday 20 June 2008 by Sagesse
Guy Demel is happy to be linked with a summer switch to Newcastle, but insists that there will be no discussions until his international duty with the Ivory Coast is complete... Print This Story Send To A Friend Contact Us galleria zoom Hamburg stopper Guy Demel (pictured right) admits that the reports linking him to the Premiership - namely Newcastle - are flattering.
Demel, who spent a season at Arsenal as a youngster, has performed well since switching to Hamburg from Borussia Dortmund in 2005.
Toon boss Kevin Keegan has been linked with several centre-backs this summer, but is yet to dig into his transfer warchest. Sources suggest that Manchester City and Portsmouth are also interested in the 26-year-old defender.
French-born Ivorian Demel is currently on international duty with Les Éléphants and insists that, while the Magpies link pleases him, he won't enter into transfer talks just yet.
He Sky Sports: "I am thinking of Ivory Coast because we are not playing as we should be.
"My transfer will be talked about soon. The Premier League is a top league.
"It is good to be linked with famous teams such as Newcastle, so we will wait and see."
Duncan Robertson, Goal.com
Forum
Hamburg's Demel Considers Newcastle

27 October 2012, by

ben 10

Hamburg's Demel Considers Newcastle

7 April 2011, by

alomda

Thank you for this wonderful illustration صور بنات

Hamburg's Demel Considers Newcastle

9 September 2010, by

alomda

Un sujet important d'accepter mes salutations

Hamburg's Demel Considers Newcastle

6 October 2010, by

abousherif1

Cette histoire est très attrayant et intéressant parce que c'est une information intéressante et merveilleuse déjà شبكة اعمال
Home page
|
Contact
|
Site Map
|
Sign In
|
Statistics
|
visits: 264934
Site created with SPIP 2.0.9 + AHUNTSIC