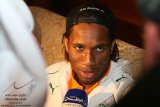 Mourinho courts Lampard & Drogba
Friday 20 June 2008 by Sagesse
Mourinho says he is after two or three new players at Inter Milan New Inter Milan manager Jose Mourinho has revealed he would love to work with Chelsea duo Frank Lampard and Didier Drogba again.
Former Chelsea boss Mourinho has made it clear he would like to be reunited with the pair he previously managed.
"I cannot forget Deco, Lampard and Drogba. These are players who I could never say no to," said Mourinho.
"I would love to work with them again in the future, but I am not too obsessed with this idea."
He added: "I don't know which of these three will leave their clubs but we will see."
Blues midfielder Lampard and striker Drogba have been linked with moves to the Serie A champions in the past.
But previously Mourinho has said any transfer dealings between the two clubs would depend on "if Chelsea wants to sell".
Could Chelsea afford to lose Lampard? England midfielder Lampard, 30 on Friday, has 12 months remaining on his current Chelsea contract.
He is expected to hold talks over his future when new coach Luiz Felipe Scolari takes charge at Stamford Bridge on 1 July.
Reports suggest talks have stalled over the duration of any new deal, with Lampard looking for a four-year extension, while Chelsea are understood to have offered a further two-year deal.
The Italian media believe Inter have offered Lampard a five-year deal, while agent Franco Granello, who claims to be acting on Lampard's behalf, said on Thursday he has a meeting with Inter in 10 days.
Drogba, 30, has also made no secret of his desire to work with his old boss again.
Mourinho indicated when he took over earlier this month that he is looking for up to three players to bolster Inter's Serie A-winning squad.
bbc.co.uk
Forum
Home page
|
Contact
|
Site Map
|
Sign In
|
Statistics
|
visits: 264934
Site created with SPIP 2.0.9 + AHUNTSIC