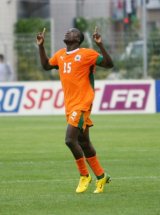 Ivorian Djakpa Transfers To Bayer Leverkusen
Friday 20 June 2008 by Sagesse
The Cote d'Ivoire international Constant Djakpa has moved to German club Bayer Leverkusen, signing a four-year deal after a 1,4-millio Euro transfer from Romania.
Djakpa, who was part of the Ivorian squad at the MTN Africa Cup of Nations finals in Ghana at the start of the year, moves from Pandurii." It has always been my ideal to play at a big European club," he said.
Djakpa was not included in the Ivorian squad for the on-going World Cup qualifiers, where the Elephants have beaten Mozambique but were held in Madagascar last weekend. They play Botswana away in Gaborone on Saturday.
Mtnfootball.com
Forum
Home page
|
Contact
|
Site Map
|
Sign In
|
Statistics
|
visits: 264934
Site created with SPIP 2.0.9 + AHUNTSIC