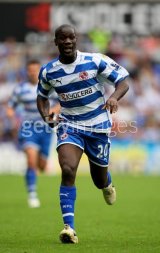 Emerse Fae Signs With Nice
Wednesday 4 June 2008 by Sagesse
Ivory Coast midfielder Emerse Fae has signed with French club Nice on a one-year-loan deal from English club Reading.
Fae, who played just eight matches in the English premier league this season, was suspended by the club after refusing to play a reserve team match near the end of the season.
Nice will pay a fee of 3-million Euros if the midfielder competes in 20 or more matches in Ligue 1.
Fae joined Reading last season from Nantes in the French league.
Mtnfootball.com
Forum
Home page
|
Contact
|
Site Map
|
Sign In
|
Statistics
|
visits: 264934
Site created with SPIP 2.0.9 + AHUNTSIC