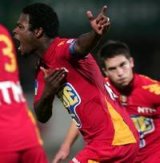 Romaric Furious After Sevilla Move Is Blocked
Friday 23 May 2008 by Sagesse
Koffi Romaric was left fuming after seeing a move to Sevilla called off afer Le Mans rejected the Spanish club's latest offer for his services and vowed to push through a move to the Spanish club.
Stampa Articolo Invia ad un amico Contatta la redazione galleria zoom The Ivory Coast international looked set to put pen to paper on a four year deal at the Ramón Sánchez Pizjuán, but the French club insisted on holding out for €10m.
Sevilla are believed to have made an offer of €7m for Romaric as they view him as the ideal replacement for Barcelona-bound Seydou Keita and the news that the deal has been called off has not go down well.
"Three years at Le Mans is enough! I have made my decision, I will leave," Romaric stated. "The president has closed the door to Sevilla, it is his problem - in my mind I have already left.
"On July 9 I will resume training and it will be with Sevilla - they have already given me the pre-season schedule and I will follow it.
"Le Mans, it is over - I am upset because I have always been fair and respected them.
"Maybe they will prevent me from going to Sevilla - but I need another challenge and it will be elsewhere, not in Le Mans - it is very clear I won't be back."
Lucas Brown, Goal.com
Forum
Home page
|
Contact
|
Site Map
|
Sign In
|
Statistics
|
visits: 264934
Site created with SPIP 2.0.9 + AHUNTSIC