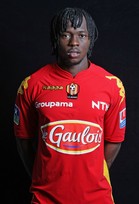 Gervinho flattered by Wenger
Ivorian starlet happy to stay put
Thursday 15 May 2008 by Sagesse
Le Mans forward Gervinho has admitted he is flattered to be linked with a move to Arsenal.
The 20-year-old has been tracked by Arsene Wenger since his days in Ivory Coast and then at Belgian club Beveren - who had a co-operation agreement with Arsenal from 2001 to 2006.
Gervinho only moved to France last year but he has already become one of Le Mans' top performers and he is now attracting interest from some of Ligue 1's big hitters in the shape of Monaco, Marseille and Paris Saint Germain.
Arsenal were believed to have made the player an offer before he joined Le Mans and are now considering a renewed bid for the youngster - who is tipped for big things by compatriot Didier Drogba.
"If he is lucky with injuries, in the next two years he could be at the same level as Ronaldo, Messi, Nani - those top young players, he is so good," said Drogba.
Arsenal link
Arsenal are no strangers to hiring Ivorian and Gervinho - who made his international debut at the African Cup of Nations earlier this year - is attracted by the possibility of a move to North London, where compatriots Kolo Toure and Emmanuel Eboue already play, but he is not ruling out the possibility of remaining with Le Mans.
"To play for Arsenal would be fantastic," he said.
"Arsene Wenger is the best coach in the world, however I am fine in Le Mans and I am learning my football here.
"I am getting help from everyone and I am happy here and at the moment I still need to learn a lot - but things can change very quickly."
Skysports.com
Forum
Gervinho flattered by Wenger

31 August 2013, by

dreamer

Ivory Coast équipe des plus fortes équipes africaines تفسير الاحلام

Gervinho flattered by Wenger

27 October 2012, by

ben 10

Gervinho flattered by Wenger

17 May 2012, by

matrix

Il sujet des sports spéciaux et de nouveaux et a beaucoup d'informations utiles العاب سباق الدراجات

سياحة وسفر

18 March 2012, by

abodyRashed

Pour ceux qui veulent le meilleur site de voyage et de tourisme en Egypte Nouvelles Maintenant, vous pouvez visiter le portail Oui pour profiter de tout ce qui est nouveau dans le monde du tourisme et des voyages à travers le site portail Oui سياحة وسفر

Gervinho flattered by Wenger

6 September 2011, by

abousherif1

Cette information est digne d'admiration et de gratitude vous remercie طبيب

Gervinho flattered by Wenger

6 July 2011, by

abousherif1

Great article by many of useful information for all thank you for the article

Gervinho flattered by Wenger

30 June 2011, by

gasho22

Cet article de la série d'articles est très العاب impressionnant et beau comme il parle Gervinho flatté par Wenger c'est l'article vraiment utile et remercier l'auteur

Gervinho flattered by Wenger

30 June 2011, by

gasho22

Cet article de la série d'articles est Autopsy video très impressionnant et beau comme il parle Gervinho flatté par Wenger c'est l'article vraiment utile et remercier l'auteur

Gervinho flattered by Wenger

12 June 2011, by

gasho22

Cet article provient de articles et merveilleux et très ديكور utile car il parle de Gervinho flatté par Wenger qu'il article merveilleux et merci pour l'auteur

Gervinho flattered by Wenger

13 May 2011, by

gasho22

Il ne fait aucun doute que cet article العاب est très bon et que le joueur sera de joueurs avec un bel avenir en Côte d'Ivoire et je vous remercie

Gervinho flattered by Wenger

3 April 2011, by

alomda

Serious discussion and a wonderful Thank you for your beautiful review العاب بنات

Gervinho flattered by Wenger

12 December 2010, by

mahmoud 3bdelwahab

Je voudrais vous remercier beaucoup d'information sur les grandsالعاب تلوين

Gervinho flattered by Wenger

26 November 2010, by

prof

Gervinho flattered by Wenger

24 November 2010, by

mahmoud 3bdelwahab

Merci beaucoup sur cet article traite qui méritent l'admiration et l'appréciationعالم حواء

Gervinho flattered by Wenger

13 November 2010, by

bassem

Gervinho flattered by Wenger

27 October 2010, by

omda

Gervinho flattered by Wenger

8 October 2010, by

abousherif1

Merci pour toutes ces informations qui est magnifique et a beaucoup de retournement et de l'intérêt عقار ستي

Gervinho flattered by Wenger

20 September 2010, by

dataway

The subject of really cool and thank you for that important information contained in this topic

Gervinho flattered by Wenger

6 October 2010, by

abousherif1

Cette histoire est très attrayant et intéressant parce que c'est une information intéressante et merveilleuse déjà عقارات عربية

Gervinho flattered by Wenger

14 September 2010, by

alomda

Merci pour votre article, qui décrit le cas remarquable d'être Cordialement القصيم

Gervinho flattered by Wenger

5 July 2011, by

abousherif1

Je vous remercie pour l'affichage de votre merveilleux article games

Gervinho flattered by Wenger

28 July 2011, by

abousherif1

même une dernière occasion par Salomon Kalou a la dernière minute du temps règlementaire qui buta encore une fois sur le goal guinéen. العاب سيارات

Gervinho flattered by Wenger

27 October 2011, by

abousherif1

Bon travail mérite des remerciements pour le magnifique article et belle a envahi le bénéfice de tous تاكو الألعاب
Home page
|
Contact
|
Site Map
|
Sign In
|
Statistics
|
visits: 264934
Site created with SPIP 2.0.9 + AHUNTSIC