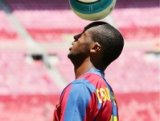 Toure admits Gunners lure
Barcelona star would love to play alongside brother
Thursday 15 May 2008 by Sagesse
Speaking exclusively to skysports.com, Yaya Toure has admitted he would love to play alongside his brother Kolo at Arsenal.
The Gunners are being strongly linked with a move for the Barcelona midfielder - who could be surplus to requirements next year with Pep Guardiola taking over from Frank Rijkaard.
Arsenal boss Arsene Wenger is no stranger to the younger Toure - indeed he spent time on trial at the club in 2002 but a deal was not struck and The Gunners' then Belgian feeder club Beveren sold him to Ukraine outfit Metalurg Donetsk.
Toure, 25, has since moved up and up through his career with Olympiakos, Monaco and now Barca.
A move to link-up with brother Kolo - who is a huge fan of his younger sibling - has always been mooted and now it appears a deal could be on the cards.
With Mathieu Flamini leaving the club and doubts arising over Alexander Hleb - Wenger needs quality midfield reinforcements and Toure junior could be the man.
English desire
And the player himself admits he would jump at the chance to move to Emirates Stadium.
"I am aware of the interest from the Premier League," he told skysports.com.
"But I can't say anything yet - however it would be great to play in a big team with my brother, it would be fantastic but you never know."
Toure admits it has been a difficult first season in Catalunya - with Barca failing to win any silverware.
"Our season was very difficult and for us it is very painful - we are winners and it is difficult," he continued.
"We have so many great players, we don't understand how we are so far behind Real Madrid.
"I want to let the fans know how much we care about this great team, it is the dream of all the players to wear the blaugrana shirt."
Guardiola is due to succeed Rijkaard in the summer and Spanish reports claim that this could be bad news for Toure - but he admits to being a fan of the Barca legend.
"He was one of my favourite players," he enthused.
"He is a playmaker in front of the defence, he plays football like it should be played - I loved watching him when I was in the academy learning my trade."
Chelsea hope
Looking ahead to the UEFA Champions League final, Toure admits he will be cheering on fellow countrymen Didier Drogba and Salomon Kalou.
"My head says Manchester United, they were excellent against us," he said.
"Cristiano Ronaldo, Tevez, Rooney, if fit, with Ferdinand and Vidic at the back - they will win - but my heart says Chelsea because of the Ivorian connection.
"Kalou and Drogba are my friends and I want them to win, they would be the first Ivorians to win Champions League medals."
Forum
Home page
|
Contact
|
Site Map
|
Sign In
|
Statistics
|
visits: 264934
Site created with SPIP 2.0.9 + AHUNTSIC