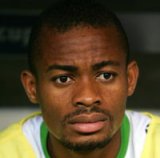 Kalou To Fulham?
Sunday 11 May 2008 by Sagesse
Out-of-contract midfielder Bonaventure Kalou is hoping for a summer move to Fulham, according to his agent…
Stampa Articolo Invia ad un amico Contatta la redazione galleria zoom The Ivory Coast international finds himself without a club following a disappointing season that has seen him move from Ligue 1 side RC Lens to Al-Jazira Club in the UAE, where he failed to make an impact.
The 30-year-old brother of Chelsea winger Salomon Kalou has hired a personal trainer in order to maintain his fitness levels while he looks for a new club.
Kalou's agent Roger Boli has denied reports of interest from Hull City, but has admitted that Fulham have been offered the former Paris Saint-Germain man's services.
"We are trying to propose him to Fulham," Boli told setantasports.com. "It would be a good challenge for him, most of all if they stay up, but if they go down as well.
"He is training with a personal trainer and as the season starts in a long period in England, he has the time to be totally fit.
"He does not want to play in France anymore. Why? Because he thinks he has experienced everything there.
"We are not in contact with Hull. But they could want him to replace Jay-Jay Okocha.
"Kalou can play in The Premier League, not for a top team obviously, but for the ones that are trying to stay up."
Mike Maguire, goal.com
Forum
Home page
|
Contact
|
Site Map
|
Sign In
|
Statistics
|
visits: 264934
Site created with SPIP 2.0.9 + AHUNTSIC