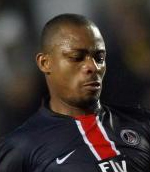 Bonaventure Kalou Confirms Lens Switch
Thursday 26 July 2007 by Sagesse
The former PSG striker today penned a three year deal with Racing Club Lens. Reuniting with old boss Guy Roux, Kalou offered some insight into why he made the switch from the capital...
In an interview today, Bonaventure Kalou stated his excitement at rejoining old Auxerre boss Guy Roux at Lens.
Signing a three year deal and receiving the number 8 shirt, the Ivory Coast striker declared his "relief" and "joy" at having finally penned the long-rumoured deal.
On Guy Roux, he said, "It's very pleasant to be at a club where the coach rates you, even moreso when it's one that you've worked with and with whom you maintain good relations.
"The fact that Roux is there tipped the scales. I had other options but this was what ultimately persuaded me to come to Lens. It wasn't just Guy Roux, though - the head staff at the club are important, too."
The idea that Roux judges the player highly revealed a sticking point at his old club. Since Paul le Guen took over at Paris Saint-Germain, Kalou has drifted out of the team, and seemed to leave the capital on a sour note.
Goal.com
Forum
Home page
|
Contact
|
Site Map
|
Sign In
|
Statistics
|
visits: 264934
Site created with SPIP 2.0.9 + AHUNTSIC