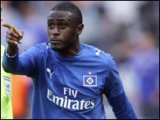 Sanogo signs for Werder Bremen
Wednesday 25 July 2007 by Sagesse
Boubacar Sanogo signed a four-year contract with Bremen Ivory Coast international Boubacar Sanogo has waved goodbye to Hamburg's boo boys by signing for rival German side Werder Bremen.
The 24-year-old signed a four-year contract at the Bundesliga club on Tuesday.
Sanogo endured a torrid year at Hamburg, where he was booed by his own fans.
He was courted by both Bremen and Bundesliga champions VfB Stuttgart before he finally signed for Werder in a deal believed to be worth US$5.5m.
After agreeing terms on Monday, Sanogo trained with his new club on Tuesday and is expected to play in the friendly against Paderborn the same night.
Sanogo was bought to replace Miroslav Klose, the top-scorer at last year's World Cup, who was sold to Bayern Munich.
This is Sanogo's third Bundesliga side having spent a year at both Kaiserslautern, where he scored 10 goals in 24 games, and Hamburg, four goals in 31 games, before signing for Bremen.
The move away from Hamburg will be a relief for Sanogo who suffered at the hands of his own fans for most of last season and admitted the jeers damaged his confidence at the time.
BBC
Forum
Home page
|
Contact
|
Site Map
|
Sign In
|
Statistics
|
visits: 264934
Site created with SPIP 2.0.9 + AHUNTSIC