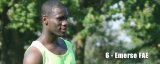 Fae an option for City
Monday 23 July 2007 by Sagesse
Nantes midfielder Emerse Fae has emerged as an option for new Manchester City boss Sven Goran Eriksson.
The Swede is continuing his quest to add players to his squad before the start of the season, having already signed Rolando Bianchi, Gelson Fernandes and Geovanni.
Reports in France have claimed that Ivory Coast international Fae is being considered by Eriksson.
Fae was previously a target for Reading, but the club recently revealed their interest has cooled following an injury-hit last season.
The midfielder is looking to leave Nantes after last term's relegation and his options appear to have dwindled to two clubs.
City are one of his suitors, according to L'Equipe, while Nice are the other side hoping to sign Fae.
Skysports.com
Forum
Home page
|
Contact
|
Site Map
|
Sign In
|
Statistics
|
visits: 264934
Site created with SPIP 2.0.9 + AHUNTSIC