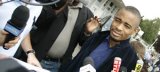 Kalou set for Lens switch
Friday 20 July 2007 by Sagesse
Kalou is expected to seal the move to Lens by next week Ivorian midfielder Bonaventure Kalou is expected to join French side Lens by next week.
The 29-year-old, who plays for rival club Paris Saint Germain, has been a Lens target for the past two seasons.
But the club were put off by the player's wage demands.
However, it now seems that a deal has been reached, and PSG have accepted a bid from Lens.
Lens manager Guy Roux told L'Equipe: "There has been progress in the negotiations, but it is not over.
"Kalou is ready to leave but there are still several points that Paris want to sort out.
"(Kalou's) head and heart are already here."
BBC
Forum
Home page
|
Contact
|
Site Map
|
Sign In
|
Statistics
|
visits: 264934
Site created with SPIP 2.0.9 + AHUNTSIC