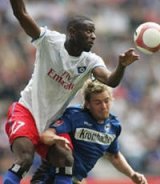 Sanogo Ponders On Future With Hamburg
Friday 20 July 2007 by Sagesse
Ivory Coast striker Boubacar Sanogo is not fully sure about whether he will stay at German club Hamburg following constant booing from a cross section of fans from his own club.
zoom - galleria The 24-year-old is afraid that this development might lead to something else as he admitted he is tempted to move to another club if there is no way of solving the problem.
"Sometimes, I am afraid and if we cant find a solution, perhaps it is better to go.
"I want to stay, but you never know what is going to happen."
Rival clubs Werder Bremen and Bundesliga champions VfB Stuttgart have been monitoring the player closely and it will not be surprising if he reaches a deal with one of them.
Hamburg sports director Dietmar Beiersdorfer said that the club still has plans for Sanago, who made 31 appearances last season.
"We have made plans with him in mind," said Beiersdorfer.
Goal.com
Forum
Home page
|
Contact
|
Site Map
|
Sign In
|
Statistics
|
visits: 264934
Site created with SPIP 2.0.9 + AHUNTSIC