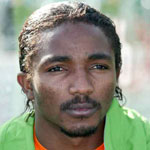 Kone Set To Leave Nice
Saturday 14 July 2007 by Sagesse
Bakary Kone, the diminutive Cote d'Ivoire international who played at last year's MTN Africa Cup of Nations finals in Egypt, is set to leave his French club Nice.
The 25-year-old still has a contract with the Ligue 1 club until 2009 but is being linked with a move to Lille or St Etienne, where is being touted as a possible replacement for the departing Guinea captain Pascal Feindouno.
Nice are asking a price of 4-million Euros for Kone, who played for ASEC Abidjan in the 2000 MTN CAF Champions League campaign.
MTN
Forum
Home page
|
Contact
|
Site Map
|
Sign In
|
Statistics
|
visits: 264934
Site created with SPIP 2.0.9 + AHUNTSIC