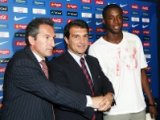 Official: Barcelona Sign Yaya Toure
Wednesday 27 June 2007 by Sagesse
Barcelona have comfirmed that they have signed Yaya Toure from Monaco.
zoom - galleria The Catalan giants had moved for the Ivorian international midfielder early next week, and a deal has now been struck.
The player has already been in Barcelona since Sunday evening, but was made to wait an extra 24 hours so as to get the Henry presentation out of the way.
He will undergo a medical at 1100 (CET) on Tuesday, before being presented at 1300.
The transfer fee remains uncomfirmed, but various sources claim that 12 million euros have been handed over.
Toure will sign a four year contract worth a two million euro basic annual salary, which could go up to three depending on results and performances.
He is expected to replace Edmilson in midfield. The Brazilian was set to leave the club, but will now stay on at least until the winter transfer window after being ruled out for six months following another knee operation. Thiago Motta could also be sold if the Barca receive an appropriate offer.
Source: Goal.com
Forum
Official: Barcelona Sign Yaya Toure

27 October 2012, by

ben 10

Official: Barcelona Sign Yaya Toure

7 July 2011, by

dw.ahmed

Je conviens avec vous dans ce merveilleux article Anhlaab et utile à toute l'équipe مقاطع فيديو

Official: Barcelona Sign Yaya Toure

22 June 2011, by

gasho22

Cet article a été l'un des meilleurs articles et plus d'avantages parle de l'officiel: Barcelone Yaya Touré Inscription C'est العاب vraiment un merveilleux article et remercier l'auteur

Official: Barcelona Sign Yaya Toure

22 June 2011, by

gasho22

Cet article a été l'un des meilleurs articles et plus برامج بلاك بيري d'avantages parle de l'officiel: Barcelone Yaya Touré Inscription C'est vraiment un merveilleux article et remercier l'auteur

Official: Barcelona Sign Yaya Toure

30 November 2010, by

mahmoud 3bdelwahab

Official: Barcelona Sign Yaya Toure

23 September 2010, by

momo

Thank you very much to disseminate this information

Official: Barcelona Sign Yaya Toure

15 September 2010, by

alomda

Merci pour votre merveilleux article
Home page
|
Contact
|
Site Map
|
Sign In
|
Statistics
|
visits: 264934
Site created with SPIP 2.0.9 + AHUNTSIC