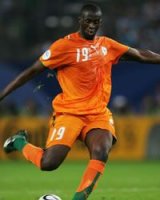 Stielike Praises Touré As Barça Deal Nears
Saturday 23 June 2007 by Sagesse
FC Barcelona are expected to tie up a deal to sign Yaya Touré from Monaco this weekend and his national team coach thinks that he will prove to be a huge success at Camp Nou.
The Blaugrana are due to meet the Ivory Coast international and his agent, Dmitri Selluyk on Sunday for talks and a deal should be wquickly concluded, according to Sport.
Touré, who is the younger brother of Arsenal defender Kolo, is wanted to play in front of the back four as Edmílson and Thiago Motta could both be on their way out this summer.
Barça are offering the 24-year-old a four-year contract, worth around €2m-a-year, and are still trying to negotiate a fee with Monaco.
The French league outfit want €15m for the player while the Blaugrana's first offer was around €9m, but the clubs expect to reach a deal next week.
Ivory Coast boss, Uli Stielike, believes that Touré will quickly adapt to life at Barça and will become a big hit with the supporters.
"As a footballer he is a rock, a beast and he is technically perfect," the former Real Madrid star stated.
"At first he may appear slow for his stature. He is around 1.88m tall and gives a sensation of being slow, but it is in the first four or five metres that he is very quick, very intelligent and reads the game superbly.
"Before he was seen as an offensive player, but I think he better in a more defensive role in front of the back line.
"That does not take anything away from him or make him less important, because he is still dangerous in attack at set pieces.
"He is also great at winning back possession and starting attacking moves with a good first pass.
"Touré is a very good player who could adapt to Barcelona's style because he is physically strong, has incredible technique and can pass."
"Going to a top club and, having already played for teams in various countries he is very experienced at 24.
"He can play in several positions, but I think he is better in the Josep Guardiola role than where Leo Messi plays."
Source: Goal.com
Forum
Home page
|
Contact
|
Site Map
|
Sign In
|
Statistics
|
visits: 264934
Site created with SPIP 2.0.9 + AHUNTSIC