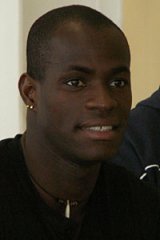 Salley ready to go for Reds
Thursday 21 June 2007 by Sagesse
Adelaide United FC signing Jonas Salley has arrived in Adelaide ahead of the squad's pre season training.
The Ivory Coast born, former New Zealand Knights player comes with a determination to perform for his new team and is eager to make an impact for The Reds in 2007/08.
A tenacious midfielder, Salley has been playing for Victorian Premier League club Sunshine since the 2006/07 Hyundai A-League season concluded and is ready to make the most of his two year deal with Adelaide.
"I'm thrilled to be here and am looking forward to settling in Adelaide and getting into pre season training," Salley said on his arrival.
On signing with United, Salley stated he had a fondness of the stadium and the crowd in Adelaide on the occasions he had played against The Reds, and he is keen to begin playing under the guidance of coach Aurelio Vidmar and providing United with another exciting option in midfield.
JONAS SALLEY Born 16-Mar-1982, Ivory Coast Position Midfielder Height 183cm Weight 74kg
Club History
Sunshine (Victorian Premier League, 2007) Sydney FC (1 game in Hyundai A-League finals series, 2006/07) NZ Knights (Hyundai A-League, 2005/06, 2006/07) South Melbourne (Victorian Premier League)
Forum
Salley ready to go for Reds

27 October 2012, by

ben 10

Salley ready to go for Reds

6 July 2011, by

dw.ahmed

Salley ready to go for Reds D'accord avec vous dans cet article parce que c'est un grand joueur et est utile pour toute Ik échappé il joue

Salley ready to go for Reds

9 September 2010, by

alomda

Salley ready to go for Reds

8 October 2010, by

abousherif1

Salley ready to go for Reds

20 October 2010, by

abousherif1

Ces joueurs fantastiques ont déjà beaucoup de compétences افلام كارتون
Home page
|
Contact
|
Site Map
|
Sign In
|
Statistics
|
visits: 264934
Site created with SPIP 2.0.9 + AHUNTSIC