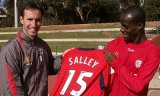 Adelaide's Ivory Coast Star Starts Training
Thursday 21 June 2007 by Sagesse
Ivory Coast Import Jonas Salley commenced pre-season training with Adelaide United Football Club this morning at Santos Stadium, with the majority of the United squad back in training for the start of the A-League's third season.
Salley looked in sharp condition, as AUFC Coach Aurelio Vidmar and Assistant Coach Phil Stubbins took the squad through a light training session for the first time for Season 2007/08.
The 25 year old defensive midfielder arrived in Adelaide on Saturday, saying he "felt very welcome" and is looking forward to the upcoming Hyundai A-League season.
When asked by the media what kind of a player he is, an unassuming Salley said in his French accent: "I am a modest player, and there's nothing really special about me. I'm a defensive midfielder, but I don't know where I'll play with Adelaide. Every game we want to win and not go out to break the legs."
Prior to his arrival in Adelaide, Salley had been playing in the Victorian Premier League with Sunshine George Cross. Salley was a part of the New Zealand Knight last season, and enjoyed playing at Hindmarsh Stadium.
Jonas was presented with the number 15 strip by Aurelio Vidmar at the conclusion of training.
Vidmar said: "With Salley's addition in the squad, he adds the necessary steel in the team that's required to succeed."
New signing's Paul Agostino and Cassio also joined the squad for their first training session, with only Kristian Sarkies, Nathan Burns and Shaun Ontong absent.
Source: Goal.com
Forum
Home page
|
Contact
|
Site Map
|
Sign In
|
Statistics
|
visits: 264934
Site created with SPIP 2.0.9 + AHUNTSIC