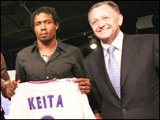 Ivorian Keita joins Lyon
Tuesday 19 June 2007 by Sagesse
Ivorian striker Kader Keita has joined French champions Olympique Lyon from rivals Lille.
The 26-year-old sealed a four-year contract with the French champions on Saturday.
"Keita cost US$24m including two million of profit-sharing," Lyon chairman Jean-Michel Aulas said.
The bonus granted to Keita is linked to Lyon's qualification for the first knockout round of the Champions League over the next four years.
The Ivory Coast international striker scored nine goals in 36 league games for Lille this season.
He had been linked with a move to English side Bolton.
Source BBC
Forum
Ivorian Keita joins Lyon

27 October 2012, by

ben 10

أخبار الرياضة

10 April 2012, by

abodyRashed

If I might —perhaps you should consider adding a few images. I don't mean to disrespect what you've said ; its very enlightening, indeed. However, I think would respond to it more positively if they could be something tangible to your ideas أخبار الرياضة

Ivorian Keita joins Lyon

9 September 2010, by

alomda

Je pense que ce serait une importante
Home page
|
Contact
|
Site Map
|
Sign In
|
Statistics
|
visits: 264934
Site created with SPIP 2.0.9 + AHUNTSIC