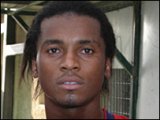 Guela signs for Dinamo Zagreb
Tuesday 22 May 2007 by Sagesse
Ivory Coast midfielder Frank-Manga Guela has signed a four-year contract with Croatian champions Dinamo Zagreb.
"I chose Dinamo because I believe it's an excellent club not only in Croatia but can prove itself in Europe," Guela said.
The 20-year-old arrives from Corfu who have been relegated from the Greek first division next season.
Dinamo Zagreb have not revealed the details of Guela's deal but according to local press he will be paid US$200,000 yearly.
Source:BBC
Forum
Guela signs for Dinamo Zagreb

31 August 2013, by

dreamer

Ivory Coast équipe des plus fortes équipes africaines تفسير الاحلام

Guela signs for Dinamo Zagreb

27 October 2012, by

ben 10

Guela signs for Dinamo Zagreb

1 September 2011, by

helenavoutus

Guela signs for Dinamo Zagreb

1 July 2011, by

gasho22

Cet article est extrait d'une série d'articles Methothelioma est très beau et il est important de parler des signes Guela pour le Dinamo Zagreb c'est vraiment un merveilleux article et remercier l'auteur

Guela signs for Dinamo Zagreb

1 July 2011, by

gasho22

Cet article est extrait d'une série d'articles est très beau et il est important de parler des signes Guela pour le Dinamo أفلام كارتون Zagreb c'est vraiment un merveilleux article et remercier l'auteur

Guela signs for Dinamo Zagreb

16 June 2011, by

gasho22

Cet article provient de la très beaux articles où sms il parle de guila et signé pour le Dynamo a été vraiment super article

Guela signs for Dinamo Zagreb

18 May 2011, by

gasho22

Cet article provient de la très beaux أخبار العالم articles où il parle de guila et signé pour le Dynamo a été vraiment super article

Guela signs for Dinamo Zagreb

5 April 2011, by

alomda

Guela signs for Dinamo Zagreb

26 November 2010, by

mahmoud 3bdelwahab

Merci pour cet article, qui a une information forte et merveilleuxافلام كارتون

Guela signs for Dinamo Zagreb

24 November 2010, by

dataway

Cet article est merveilleux et de vendre un lot d'informations grâce à l'excellent article

Guela signs for Dinamo Zagreb

22 November 2010, by

dataway

Cet article contient de nombreuses informations utiles Merci pour l'article

Guela signs for Dinamo Zagreb

9 November 2010, by

alomda

If you want the most beautiful sites and game try hguhf it is the bast

Guela signs for Dinamo Zagreb

8 October 2010, by

abousherif1

Ces joueurs fantastiques ont déjà beaucoup de compétences اراضي

Guela signs for Dinamo Zagreb

23 September 2010, by

momo

Merci pour votre article, qui décrit le cas remarquable d'être

Guela signs for Dinamo Zagreb

15 September 2010, by

alomda

Merci pour le merveilleux article
Home page
|
Contact
|
Site Map
|
Sign In
|
Statistics
|
visits: 264934
Site created with SPIP 2.0.9 + AHUNTSIC